Home design firm Interior Particulier shares their 2023 home design trend forecast.
By: Brad Greiner, CEO of Open Air Homes and OpenAiRE Brokerage
January 9, 2023
What Are Design-Driven Homes?
As a boutique property management company, we at Open Air Homes focus on design-driven homes. That means we maintain a rental portfolio of some of the most beautifully-built and thoughtfully-designed spaces in Southern California. From Architectural Digest and Elle Decor to Palm Springs Modernism Week, our homes have made quite a name for themselves. 
Our work with design firm Interior Particulier often garners attention. Founder Julien Marbot elevates every property with a warm, textural design that harnesses the natural beauty of California. His French roots add an elegant flair blend with the ease and luxury of the West Coast and illustrate his firm's design philosophy: Modern and fresh. Sophisticated and joyful.
We talked to the team at Interior Particulier about their vision for home design in the coming months. Get ahead of the curve with these predictions for 2023 interior design trends.
Interior Particulier + Open Air Homes: 2023 Interior Design Trends
This year finalizes the exit of Pinterest-perfect minimalism and boho chic and the entrance of warmth, depth of texture, and embracing imperfection. Clean lines give way to arched entryways and blob-shaped mirrors. Flow, wellness, and the outdoors serve as inspiration.
Pre-pandemic, city homes were often minimal. In some ways, this fostered relaxation after the near-constant stimulation of the outside world – commuting, interacting with others, and after-office happy hours. In our new normal, homes aim to be restorative spaces with cozy amenities, focusing on energizing workspaces and entertaining indoors.
2023 home design is all about a return to self.
A focus on wellness
Wellness will continue to dominate homes in 2023, as the pandemic catalyzed a more holistic approach to interior design. Much of the world slowed down, turned inward, and found comfort in the home for the better part of 3 years. A focus on flow, sustainability, and the therapeutic benefits of nature will be prominent throughout homes in the future – possibly for the next several years to come.
In luxury homes, amenities like saunas are seeing a resurgence. Better sleep, stress relief, and anti-aging effects are among the purported healing properties of taking a steam. Open Air Homes' Hillside Hideaway in the bohemian enclave of Topanga boasts a spacious cedar sauna for guests to unwind after long days.
Cold plunge pools and private outdoor access are other wellness-geared trends we're excited about in 2023.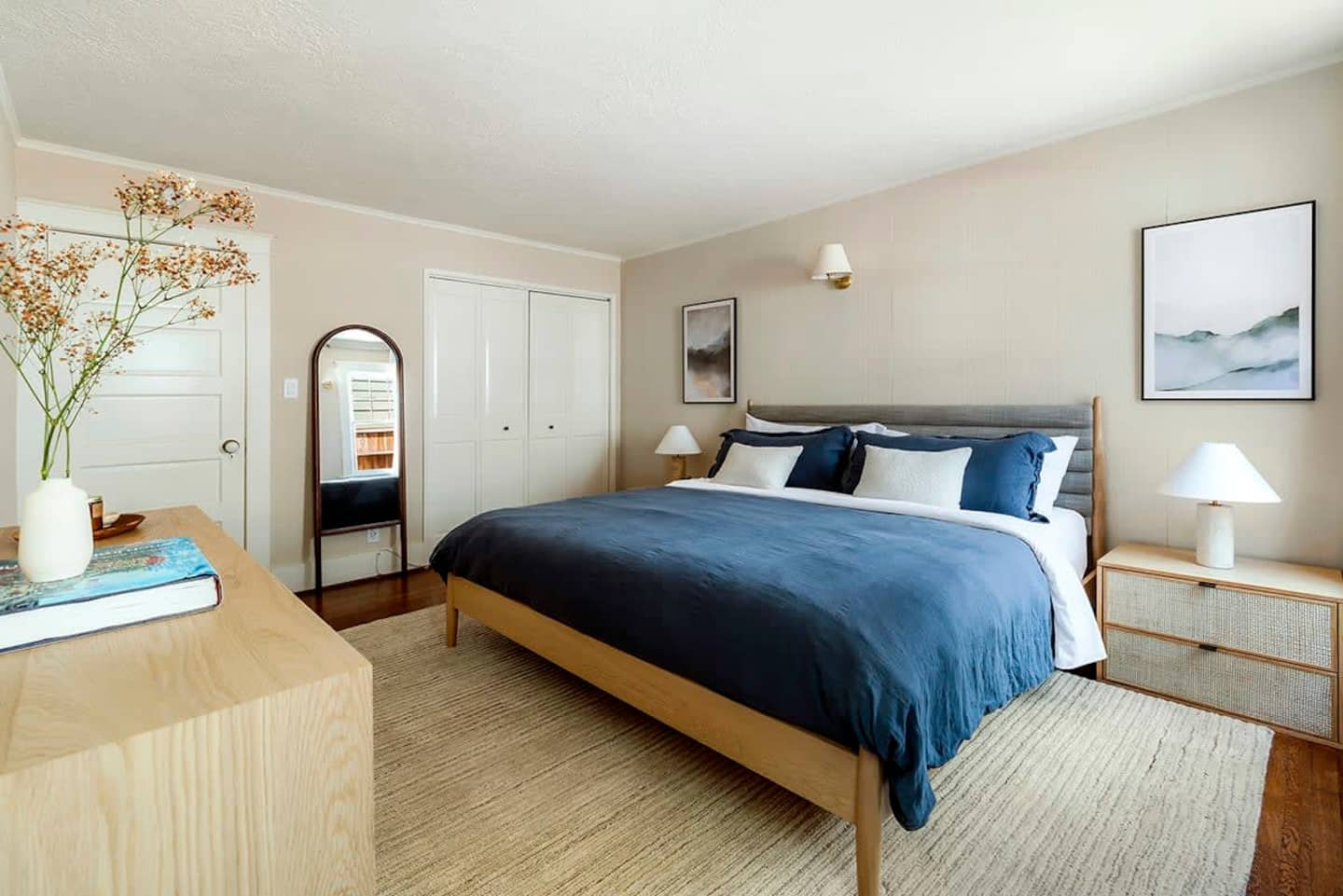 Condé Nast Traveller names sleep tourism as an emerging travel trend for 2023. While exploring new cities is paramount when traveling, hotels and vacation rentals have become more than a place to simply lay your head. In fact, accommodations have become just as much of a destination as the arrival city. Homes that foster tranquility and stress relief are highly desirable. High-quality mattresses and bedding with scents like lavender or chamomile are sought-after qualities when choosing a vacation home. 
One thing is certain: Following the collective anxiety of a global pandemic, everyone is looking to relax.
Indoor/outdoor living, nature, and the California lifestyle
A focus on the outdoors and harmony with the surrounding landscape complements wellness. Sunny atriums, natural light via floor-to-ceiling windows, and outdoor work and dining spaces reign supreme.
It's no surprise that Southern California flawlessly executes indoor/outdoor living – our mild weather, stunning natural beauty, and iconic midcentury homes all make for a laid-back lifestyle. Signifiers of luxury have shifted from material items – private outdoor space, dedicated beach access, and al fresco meals are new indicators of casual elegance.
Following a dark three years, California's sunny outlook and enthusiasm for life is a welcome change of pace.
Social amenities
Home bars. Sunken living rooms. Palatial pool decks.
Gathering spaces where people can enjoy quality time are trending, as being a homebody is more accepted than in years past. A return to hosting and entertaining at home marks much of 2023's home design, with clandestine home bars being more exclusive than any speakeasy. Discreet entrances and low-key evenings with a trusted inner circle are the hallmarks of a good time.
Embracing imperfection with texture, depth, and warmth
Sterile white walls and boho fairy lights take a backseat to warmer, more organic designs. Blending natural and manmade materials like acoustic walnut and felt paneling creates a warm environment that feels natural. Flow is key here, with elements like ceiling beams and clerestory windows leading the eye upward and conveying depth.
Patina finishes and walls akin to roman clay add texture to any room, while curved mirrors and seating offset the angular decor of years past.
Plaster frames and handcrafted items edge out mass-produced modular furniture. Blob-shaped mirrors and decorative accents signify acceptance of imperfection and the ephemerality of being.
'Bleisure' + an emphasis on work/life balance
While weekend getaways are always in vogue, travelers are opting for "bleisure" or "lisness" travel – the blending of leisure and business. The enormous shift to remote work has ushered in an era of digital nomads seeking vacation rentals that can accommodate them for months at a time. 
Traveling while working is booming. The number of digital nomads in the US has more than doubled over the past two years—from 4.8 million in 2018 to more than 11 million in 2021 (source). 
For many, accruing PTO is no longer necessary to travel, spawning a new attitude when it comes to exploring. Why wait? This newfound flexibility and reprioritizing of careers are prominently reflected in home design. Thoughtfully designed home offices and dedicated workspaces are now a must in homes across the nation.
Stay on top of the latest home design and travel trends. Enter your email in the box below to subscribe to Open Air Homes' blog.